DIN 02518082
SteriWipesPLUS™
SteriWipesPLUS™ are Virucidal, Bactericidal, Tuberclocidal, Fungicidal, Disinfectant and Deodorizer cleaning wipes for hard inanimate objects.
SteriWipesPLUS™ are Bleach Free, Alcohol Free, Fragrance Free and Contain No Abrasives.
Formulated for a wide variety of Disinfection, Sanitization and Cleaning applications including
Hospitals (CCU, E.R., I.C.U), Schools, Dental Offices, Ambulances, Restaurants & Institutional Kitchens, Transportation Vehicles & Terminals, and many other Public Contact Settings.
160 count tub 15.5cm x 16cm wipes
ACTIVE INGREDIENTS
n-Alkyl (5% C12, 60% C14, 30% C16, 5% C18) Dimethyl benzyl ammonium chloride — 0.105% w/w n Alkyl (68% C12, 32% C14) Dimethyl ethylbenzyl ammonium chloride — 0.105% w/w
IMPORTANT EFFICACY INFORMATION
DISINFECTION, DEODORIZING AND CLEANING:
Remove heavy soil. Pull wipe from container and thoroughly clean surface.
Allow surface to remain wet for required time (See applications below).1 minute for SARS-CoV-2, the virus that causes COVID-19.
A rinse with potable is recommended for surfaces/objects that children may come in contact with.
BACTERICIDAL ACTIVITY:
Used as directed, SteriWipesPLUS exhibit effective disinfectant activity against: Staphylococcus Aureus, Salmonella Enterica, Pseudomonas Aeruginosa, Eschericha Coli, Escherichia Coli 0157:H7, Vancomycin Resistant Enterococcus Faecalis, Methicillin Resistant Staphylococcus Aureus, and Staphylococcus Aureus (VISA), amongst others, and
meets requirements for use in medical facilities.
TUBERCULOCIDAL ACTIVITY:
SteriWipesPLUS exhibit disinfectant efficacy against Mycobacterium Terrae when the treated surface is allowed remain wet for 5 minutes.
VIRUCIDAL ACTIVITY:
Used as directed, SteriWipesPLUS exhibit effective virucidal activity against Feline Calicivirus, Norwalk Virus and
kills SARS-CoV-2, the virus that causes COVID-19 in 1 minute.
When used on inanimate, non-porous surfaces, SteriWipesPLUS kills HIV-1.

NOTE regarding DELTA, LAMBDA and other COVID variants:
SteriWIpesPLUS are a List N disinfectant delivery system.
The EPA expects all products on List N to kill all strains of SARS-CoV-2. Genetic changes to the virus do not impact the efficacy of disinfectants.
List N disinfectants work by chemically inactivating viruses. The difficulty of killing a virus depends on its physical features, and the recent mutations to SARS-CoV-2 have not changed their basic physical properties.
PRE-CLEANED ENVIRONMENTAL SURFACES / OBJECTS PREVIOUSLY SOILED WITH BLOOD:
Body fluids in Health Care settings and similar areas where there is an expected likelihood of soiling with blood or bodily fluids, and in which the surfaces/objects may be associated with the potential for transmission of HIV Virus Type 1:
Cleaning and decontamination against HIV-1: When dealing with items soiled by blood or body fluids, disposable latex gloves, gowns, masks, and/or eye coverings are recommended.
Infectious materials disposal: Materials used in the cleaning process that may…contain blood or body fluids must be disposed of immediately in accordance with local regulations for infectious materials.
MILDEWSTAT:
To control mould and mildew on pre-cleaned, hard, non-porous surfaces wipe surface to be treated making sure to wet. Let air dry. Repeat application at weekly intervals or when mildew growth appears.
FUNGICIDAL ACTIVITY:
SteriWipesPLUS are effective against pathogenic fungi, such as, Trichophyton Interdigitale (Athlete's Foot Fungus) when used as directed on hard surfaces found in bathrooms, shower stalls, locker rooms, or other clean, non-porous, hard surfaces contacted by bare feet.
BACTERIACIDAL ACTIVITY:
SteriWipesPLUS are an effective bacteriacide in the presence of organic soil (5% Blood Serum).
NOTE: Recommended by end-users for electronic touch-point surfaces.
DIRECTIONS FOR USE:
Formulated to disinfect & deodorourize non-porous, inanimate surfaces such as - steel, porcelain, & laminates.
For plastic and painted surfaces, spot test on an inconspicuous area before use.
A rinse with potable water is required for surfaces in direct contact food.
DISPENSER:
Remove cover, discard second seal if present. Pull up wipe from center of roll and feed through star insert in lid.
DO NOT PUSH FINGER THROUGH STAR SHAPED OPENING. Snap lid back in place. Close center cap to retain moisture.
PRECAUTIONS:
NOTE regarding HOSPITAL applications:
SteriWipesPLUS are NOT TO BE USED as
a sterilant/high-level disinfectant on any surface or instrument that: (1) is introduced into the human body, either into or in contact with the bloodstream or normally sterile areas of the body, or (2) contacts intact mucous membranes but which does not ordinarily penetrate the blood barrier or otherwise enter normally sterile areas of the body.
SteriWipesPLUS may be used to pre-clean or decontaminate critical or semi-critical medical devices prior to sterilization or high-level disinfection.
CAUTION:
MAY CAUSE MODERATE EYE IRRITATION. Avoid contact with eyes or clothing and possible contamination of food. Wash thoroughly with soap and water after handling.
Throw used wipes in the trash. Do not flush.
KEEP OUT OF REACH OF CHILDREN.
FIRST AID - IF IN EYES:
Hold eyes open and rinse slowly and gently with water for 15–20 minutes. Remove contact lenses if present, after the first 5 minutes, then continue rinsing. Call a Poison Control Center or doctor for treatment advice.
IF SWALLOWED:
Call a Poison Control Center or doctor immediately. DO NOT induce vomiting. Contains Quatinary Ammonium Chlorides.
Have the product container or label and Drug Identification Number (DIN) available when contacting a Poison Control Center or doctor.
NOTE TO PHYSICIAN: Treat symptomatically.
STORAGE:
Store at room temperature. (Above freezing)
DISPOSAL:
Dispose of used wipes and empty containers in accordance with local, provincial and/or federal regulations.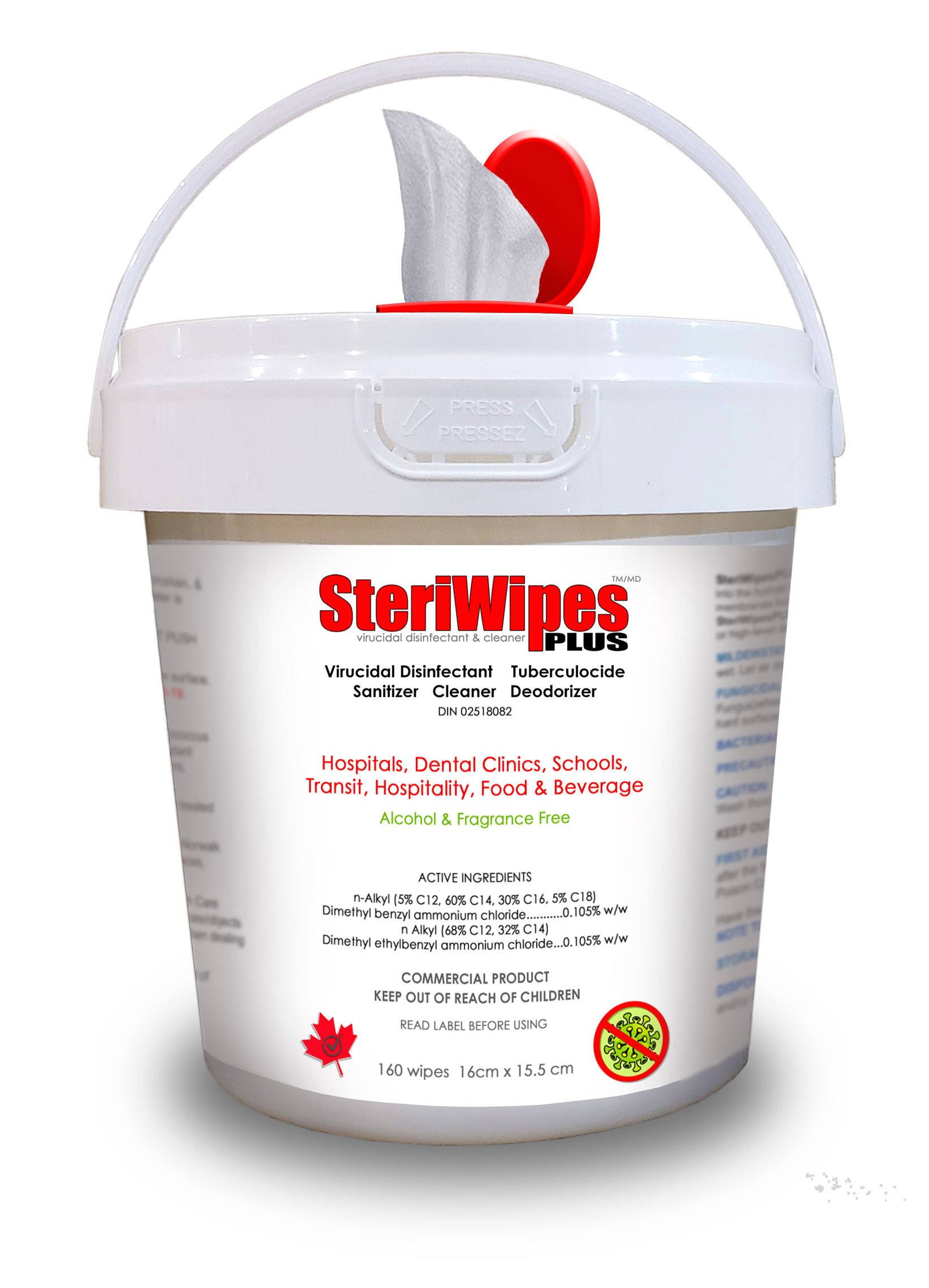 We create environmentally superior, highly effective solutions that contribute to the health and safety of the world we share.
Our curated products are used across a broad range of market sectors ranging from Healthcare to Aerospace.