H2 O2Kleen™
DIN #, EPA # and
UL / EcoLogo
certification in process.
Hydrogen Peroxide Charged Multi-Purpose Cleaning, Disinfectant, Deodorizer, Degreaser Solution
H2 O2Kleen unleashes the environmentally friendly power of hydrogen peroxide for wide variety of cleaning, sanitization, & disinfection applications including: Hospitals, Veterinary Clinics, Food Processing Plants & Food Service Prep Areas, Transportation Related Equipment and other Public Contact Settings.
H2 O2Kleen cleans, disinfects, and deodorizes in one labour saving step. It can be used with a mop and bucket, trigger sprayer, sponge or by soaking.
Fragrance Free at the request of Healthcare and Schoolboard clients.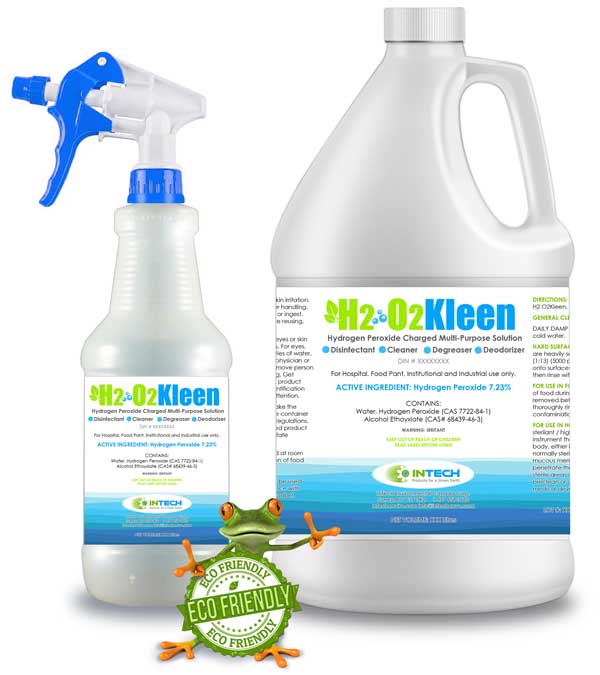 Contains no phosphates or phosphorous compounds. H2 O2Kleen is a concentrated non-acidic disinfectant, virucide and cleaner.
H2 O2Kleen is formulated for use on non-food, and food contact surfaces. Rinsing is required on food-contact surfaces and utensils.
H2 O2Kleen can be used to disinfect hard non-porous surfaces and is rated as effective for destruction of a wide range of viruses and pathogens.
Proudly Made in Canada