SteriKleen™
DIN No. 02500787
Concentrated, Hospital Grade, Virucidal, Disinfecting, Sanitizing, Fungicidal, Mildewstat, Cleaner.
Formulated for a wide variety of disinfection, sanitization and applications including: Hospitals, Schools, Food Processing Plants and Food Service Prep Areas, Transportation Related Equipment and other Public Contact Settings. Contains no phosphates or phosphorous compounds.
Fragrance Free – Alcohol Free
SteriKleen can clean, disinfect and deodorize in one labour saving step. SteriKleen can be used with a mop and bucket, trigger sprayer, sponge or by soaking. SteriKleen is effective for use on non-food, and food contact surfaces. Rinsing is required on food contact faces and utensils.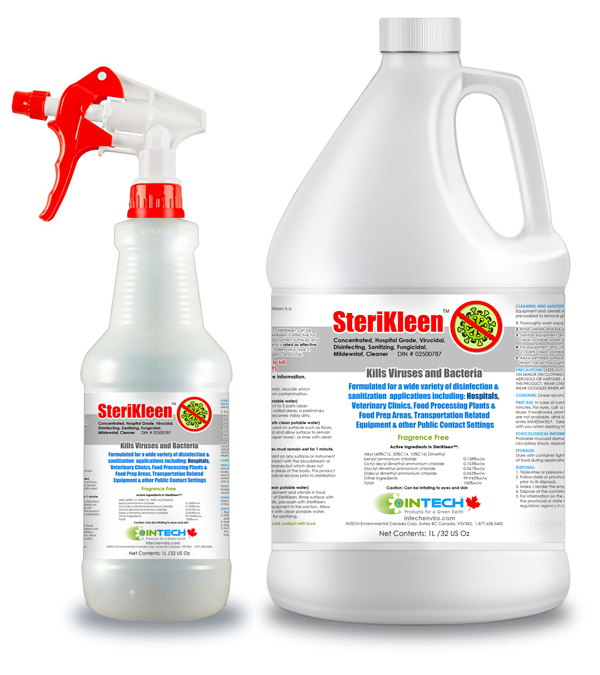 SteriKleen can be used to disinfect hard non-porous surfaces and is rated as effective for destruction of a wide range of viruses and pathogens, among them: Adenovirus Type 5, Hepatitis B & C, HIV 1, Influenza A, RSV, Avian Influenza virus and a wide range of bacterial pathogens, and fungi.
Effective against (Andenovirus Type 5) and deemed likely to kill SARS-CoV-2 (the virus that causes Covid-19)
VIRUCIDAL DISINFECTION:
Use SteriKleen at full strength. Treated surfaces must remain wet for 1 minute.
GENERAL DISINFECTING SURFACES:
(1 part Sterikleen to 3 parts clean potable water)
SANITIZING NON-FOOD CONTACT SURFACES:
( I part SteriKleen to 16 parts clean potable water)
SANITIZING FOOD CONTACT SURFACES:
(1 part Sterikleen to 21 parts clean potable water)
Proudly Made in Canada