SteriWipes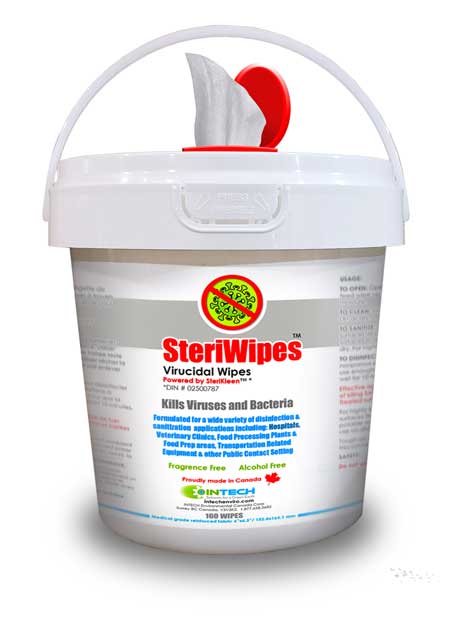 SteriWipes™
Powered by
SteriKleen DIN No. 02500787
Kills Viruses and Bacteria
Disinfectant - Cleaner - Sanitizer – Fungicide -Mildewstat - Virucide – Deodorizer
Formulated for a wide variety of disinfection & sanitization applications including: Hospitals, Veterinary Clinics, Food Processing Plants & Food Prep areas, Transportation Related Equipment & other Public Contact Settings
Effective against: Staphylocidal - Pseudomonacidal - Bactericidal - Salmonellacidal - Fungicidal. Effective against (Andenovirus Type 5) and capable of killing SARS-CoV-2 (the virus that causes Covid-19) Treated surfaces must remain wet for 1 minute.
See SteriKleen Technical Data sheet for a more detailed listing. (Link below)
For use in daily maintenance programs - with a balance of detergents and counteractants that deliver effective disinfecting, cleaning, and odor control. Deodorizes by killing microorganisms that cause offensive odors. Will not leave grit or soap scum.
See SteriWipes Product Data Sheet for usage details.
Fragrance Free – Alcohol Free
160 WIPES per container
Medical grade reinforced fabric 6"x6.5"/ 152.4x165.1 mm
Please contact us for Safety Data Sheet SDS